Find the best neck pillow for your trip
Find the most comfortable neck pillow so you avoid getting a sore neck when you are out flying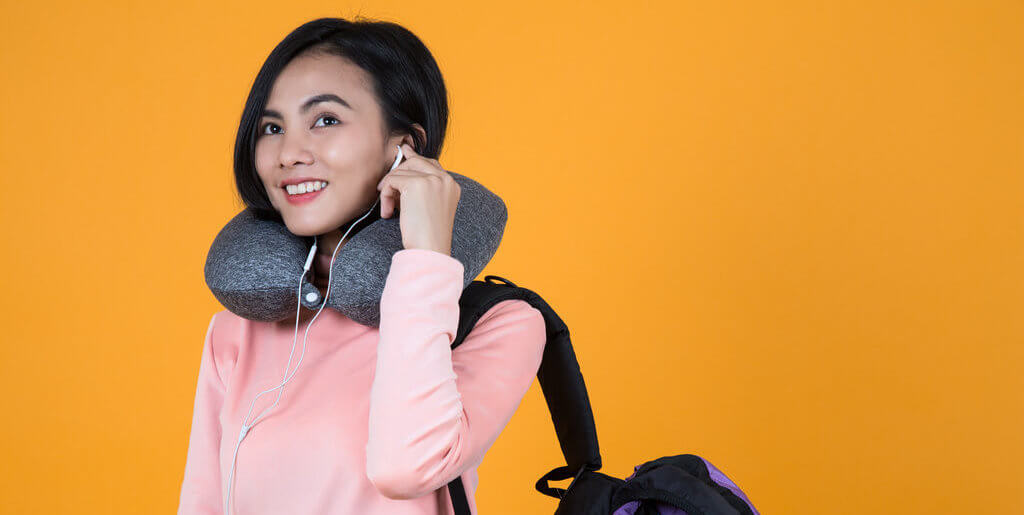 The best neck pillow
Benefits of using a neck pillow
It can be hard to travel whether you are traveling alone or with others. You get tired and exhausted by traveling, and you can almost never find the perfect place to rest and find comfort. However, one of the things that can help make traveling more comfortable is by using a neck pillow. It can be one of the best things you can take with you on your vacation. In this post you can find out which neck pillow is the best to buy and why it can be one of the best purchases you can make.
Comfortable and soft
This is a very standard pillow that is comfortable and soft. It is available in 3 different colors, including pink, blue and black.
The neck pillow has two different types of fabric on each side of it, so you can choose to use the side of the neck pillow that you think is the most comfortable.
Buy at Rejsegear
Why Buy?
When traveling - especially on longer flights - a neck pillow is one of the most comfortable things you can carry. When traveling within the EU on the short flights, the planes can be completely full. It can quickly be an uncomfortable journey with the small seats, limited legroom and one has to sit in the same position for several hours. Therefore, you should buy yourself a neck pillow as it gives you the following:
Comfort
The journey becomes more comfortable
Relaxation in your muscles
Comfortable to page down for many hours
These are just some of the benefits of traveling with a neck pillow.
What should I look for when choosing?
When buying something, make sure you get the best product on the market. Therefore, when you buy your neck pillow, you need to know what makes it good and what properties it has. Some of those features are:
Neck support
The most important thing, of course, is that you buy one that is able to support your neck. How you sleep and in what positions you sleep is crucial to which one you should have. If your neck is not well supported by the neck pillow, then there is a chance that you will get cramps during the trip. And it will just make your flight even more uncomfortable if you get cramps by using the neck pillow.
The fabric of the pillow
Once you have found a neck pillow that can support your neck, then you can investigate whether the material that the pillow is made of is something that you like. If you get a neck pillow and the material it is made of irritates you, then it will be something like that it will irritate more than it will benefit.
The weight and size of the neck pillow
The best neck pillow is a light and removable pillow. You do not want one that is too big or too heavy. You must have one that is the right size when traveling and the right weight to take with you in your hand luggage and through the airport.
Durability
Last but not least, it is important that you examine the durability. The one you need should be able to last for a long time. However, it can be difficult to find one where you can be sure that it can not break or that the durability is poor. So make sure you do not buy the cheapest as price is often associated with quality. The best quality ensures that your neck pillow is durable and can be used for a long time.
When you relate to all those things, it's about finding a neck pillow that you also think looks nice, as they are available in all sorts of different shapes and colors. So why wait to buy your new neck pillow? Buy your next neck pillow now for your next trip.